Latest Happenings at G V TECH
At G V Tech, we always have something new in the works. From winning new Projects from our customers to our success stories. We evolve around the best business practices to deliver the customer's needs in a cost-effective way. Here are some of the things we've been up to most recently: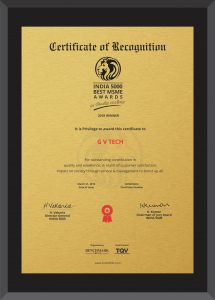 'WINNER' of MSME Award for the year 2018
We're proud to announce that G V Tech has emerged as a WINNER of India 5000 Best MSME Award for the year 2018. India5000.com is the research group, part of Benchmark Trust, which is creating a platform by doing research and recognition for 5000 best MSME in quality output.
Water Distribution Network
This experimental setup is uniquely designed for the study of complex water distribution system having intermittent supply policies. It holds 4 Overhead tanks (100Ltr capacity each), supplying water to several storage tanks at the lower level through a network of pipe elements formed with stainless tubing of 4-20mm. The entire network is instrumented with control valves, solenoid valves, level and flow sensors of appropriate sizes. GV Tech played a major role in designing & installation of the huge support structure, procurement and installation of control valves & SS tubing.
Location: IIT Madras
Supersonic Windtunnel Automation
We have Automated the existing manually operated valves in supersonic wind-tunnel to remotely operated control system via control panel designed by us.
Location: SRM University Chennai.